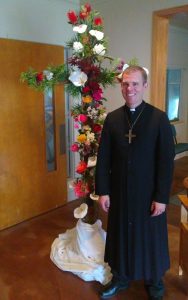 Priest-in-Charge Ryan Eikenbary
I am thrilled to be the Priest here at The Episcopal Church of St. Anne in Stockton! I am a northern California native and love to live and serve God in this wonderfully diverse area. I am a life-long student and after starting college in a music conservatory studying to be an Opera singer, I felt the call of God and transferred to The Masters University in Southern California, to earn a BA in Biblical Studies. My post-graduate studies include an MA in Church History from the Church Divinity School of the Pacific (the only Episcopal seminary in the West), and an MDiv from Pacific Lutheran Theological Seminary. Both of my graduate schools are part of the Graduate Theological Union in Berkeley, CA which is an ecumenical consortium of eight denominational institutions that share resources to train leaders for the life of ministry and scholarship. My thesis for my MA in Church History is titled "And God Spoke in England: Puritan Iconoclasm and the Creation of the Verbal Icon".
I am passionate about worship of our great God, living the gospel, and helping to form people in the Christian faith. Prior to attending seminary I worked as a college administrator at UC Davis. After seminary I worked both as a church administrator and as a nursing home chaplain until 2016, when I received my first call at Zion Lutheran Church, just a mile down the road from St. Anne's. I serve as both Priest here at St. Anne's and Pastor at Zion Lutheran. As a religious leader I thoroughly enjoy preaching and creating Bible study classes that enrich the life of faith of our congregation.
When I am not at church I enjoy an active and healthy lifestyle. I spend many hours reading, cooking, and working in our garden. My favorite forms of exercise include running and swimming. Additionally, I've taught ethics courses at the University of the Pacific here in Stockton. I have been married since 2012 and my spouse is a school administrator.  In 2016 we adopted our middle school-aged son and in 2021 we adopted our elementary-aged son. I love spending time with my family, especially when we get to travel.
St. Anne's is a wonderful community of people committed to following Jesus Christ in his radical acceptance.  Regardless of your past or your present, this church will welcome you with open arms. I hope you'll join us.